Work Is Death
is the 32nd episode in
Season 7
of
Beavis and Butt-Head
. It is overall the 192nd episode.
The duo is working at Burger World and Beavis is trying to break the frozen burgers so he tries slicing them but he burns his hand because he sliced them on the grill. But when the Burger World Manager looked at it was not burned so he tells them that Burger World could not afford workers to get hurt go home and get paid. After Butt-Head hears this he tells Beavis they should get hurt so they could go home and get paid so Butt-Head starts slapping Beavis. But then Butt-Head kicked Beavis in the stomach, face, and groin in slow motion but Beavis was still able to work so Butt-Head hit him with a frying pan on his head. Then the Manager comes in and he tells Butt-Head to stop hitting Beavis but they ask to get their money and go home but he says they can do that only if there is an accident. So Butt-Head tries to hurt Beavis making it look like an accident by slamming his arms in the freezer door, dunking him in the mop bucket, and pulling his hair, and instructs him to get his head struck by a car. But then the Manager gets into an accident himself and they asked how he did it then he tries to get up and kill them.
Transcript
Edit
The episode opens as we see beavis struggling to separate the burger patties.

Beavis: Ahh, Dammit, (He places the meat on the grill and slices it with his hand, only to accidentally touch the hot grill) Owww.

Burger World Manager: What happened to your hand?

Butthead: He was playing with the meat.

Burger World Manager: What? Dammit Beavis there's nothing wrong with you.

Beavis: Huh? Oh yeah, I'll be damned.

Burger World Manager: Be careful in the kitchen, Burger world can not afford to pay out anymore Worker's Compensation.

Butthead: Uhhh, Worker's Constipation?

Beavis: Yeah, yeah, I get that all the time at work when I can't take a poop.

Burger World Manager: No you idiot, Worker's Compensation, If you get hurt at work, the government makes me send you home and pay you money for not working, so stay out of trouble.

Butthead: Whoa, did you hear that Beavis? If you like get hurt at work, we can go home and still get paid.

Beavis: Oh yeah, yeah, He should of told us that a long time ago.

Butthead: Yeah (Hits Beavis)

Beavis: Ahhh, What the hell are you doing fartknocker?

Butthead: Uhhh, I'm like hurting you so we can get some money.

Beavis: Oh yeah, okay but just don't touch my nads.

Butthead: Uhhh, this is like gonna hurt you more than it's gonna hurt me. (He hits Beavis several times.) Dammit, this is taking too long.

Beavis: Maybe you should try kicking me.

Butthead: Uhhh, okay. (He kicks Beavis in the groin hard enough to knock him over and proceeds to stomp on him repeatedly) I kicked your ass.

Beavis: Yeah, thanks. So where's the money?

Butthead: Uhhh, I think we need to like show that manager dude that you can't work or something.

Beavis: Yeah, yeah, okay.

Positive Acting Teen: Hello, I've been standing here for like 15 minutes.

Beavis: May I like help you or something?

Positive Acting Teen: Uh, yeah. Get me some chicken fingers and some small fries, and (Beavis starts to leave) hey, hey, I'm not gonna keep waiting you know.

Beavis: Ahhh, dammit, I can still work.

Butthead: Uhhh, okay. Uhhh, hold still I'm gonna finish the job.

Beavis: No, No, Ahhh.

Burger World Manager: Hey, what the hell is going on here?

Beavis: Ahhh.

Butthead: Uhhh, we're like trying to get some of that Worker's Constipation.

Burger World Manager: You don't get worker's comp for fighting. It has to be an accident.

Beavis: You mean we need to like poop in our pants, poop.

Burger World Manager: No you moron, you have to be injured by something on the job, now clean yourself up and get back to work.

Butthead: Uhhh, why didn't that fartknocker tell us that before?

Beavis: Yeah, yeah, really, he keeps leaving stuff out.

Butthead: Uhhh.

Beavis: Just doing some work here, ahhhh.

Butthead: Come on Beavis, stick it in there.

Beavis: Butthead, you said.

Butthead: Uh, like drive up to the window please, as fast as possible.

Butthead: Uh, hey Beavis, like stick your head out the window so the car will hit you.

Beavis: Oh, yeah, yeah, Ahhhh, um, Hey how's it going?

Butthead: Dumbass

Burger World Manager: What the hell is going on?

Butthead: Whoa.

Beavis: Dammit, we were carved for that Worker's Constipation and this bunghole stole our idea.

Butthead: Can you show us how you did that?

Burger World Manager: You bastards! (He gets up and tries to attack the boys, only to slip again).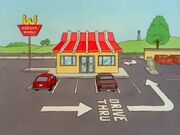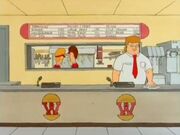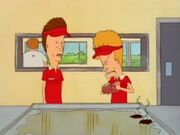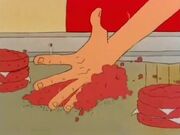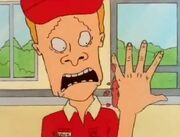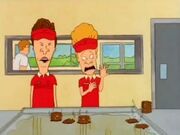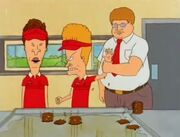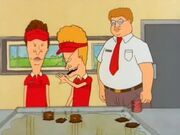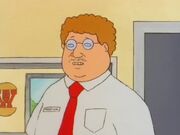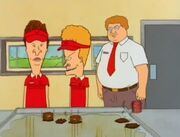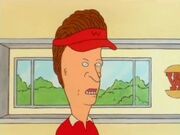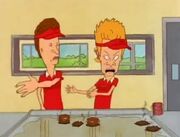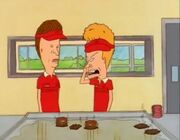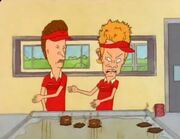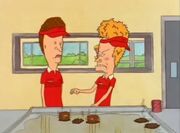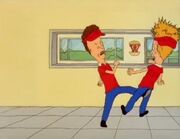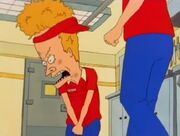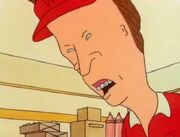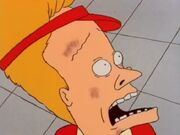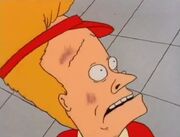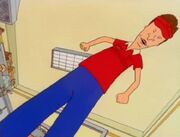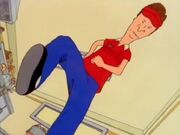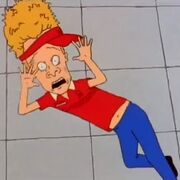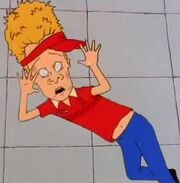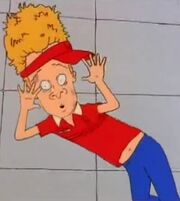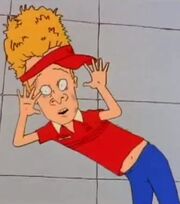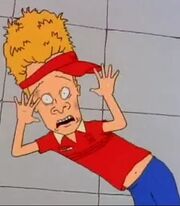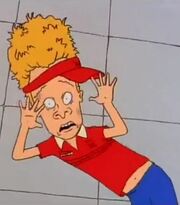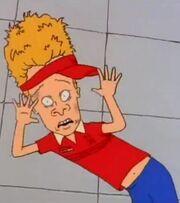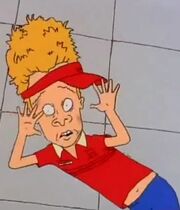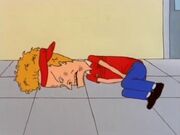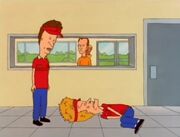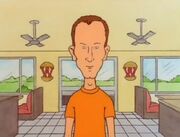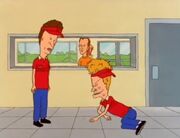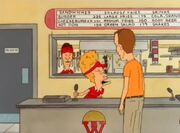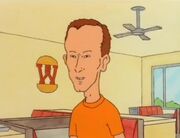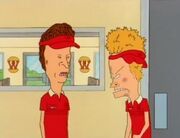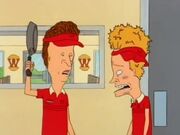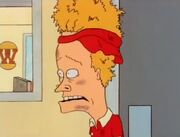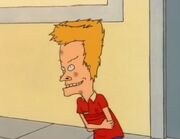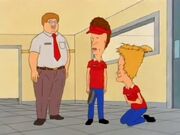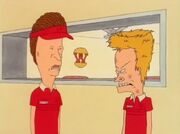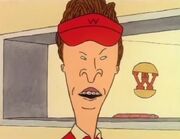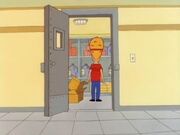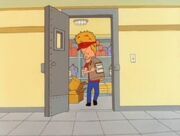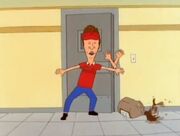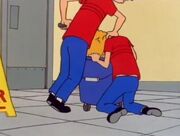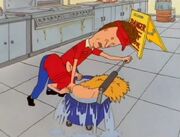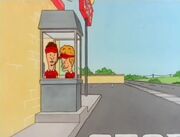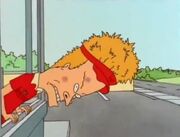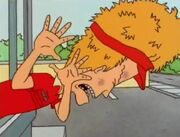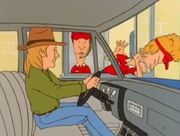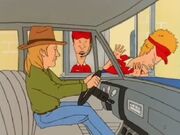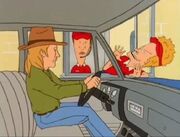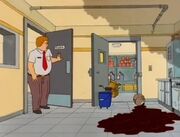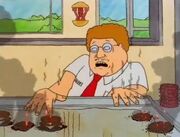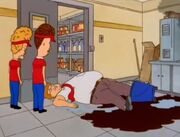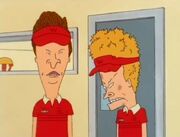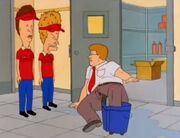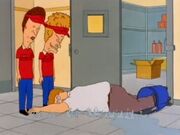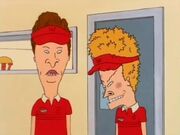 Pilot
Frog Baseball · Peace, Love & Understanding
Season 1
Door To Door · Give Blood · Balloon
Season 2
Scientific Stuff · Good Credit · Burger World · Baby Makes Uh, Three · Beware of the Butt · At The Sideshow · Customers Suck · Sick · Home Improvement · Way Down Mexico Way · Way Down Mexico Way Part 2 · At the Movies · No Laughing · No Laughing Part 2 · The Butt-head Experience · Lawn and Garden · Stewart's House · For Better or Verse · Bedpans & Broomsticks · Babes'R'Us · Yogurt's Cool · Heroes · Sign Here · Washing the Dog · Friday Night · Be All You Can Be
Season 3
Comedians · Carwash · Couch Fishing · Incognito · Kidnapped · Kidnapped Part 2 · Naked Colony · Tornado · Cleaning House · Scratch 'N' Win · Scared Straight · Eating Contest · Sporting Goods ·Sperm Bank · Buff 'N' Stuff · Citizen Butt-Head · Citizen Butt-Head Part 2 · Politically Correct · Ball Breakers · Meet God · Meet God Part 2 · True Crime · The Trial · The Crush · Plate Frisbee · Canoe · Young, Gifted & Crude · Foreign Exchange · A Very Special Christmas With Beavis and Butt-head · Closing Time · Most Wanted
Season 4
Wall of Youth · Cow Tipping · Trouble Urinating · Rabies Scare · They're Coming To Take Me Away, Huh Huh · Jump! · Pumping Iron · Let's Clean it Up · 1-900-BEAVIS · Water Safety · Blackout! · Late Night with Butt-head · The Final Judgement of Beavis · Pool Toys · Madame Blavatsky · Beavis and Butt-head's Island · Figure Drawing · Date Bait · Butt is it Art? · Right On · Manners Suck · The Pipe of Doom · Safe Driving · Mr. Anderson's Balls · Patients Patients · Teen Talk · Crisis Line · Beavis and Butt-head vs. the Vending Machine · Generation in Crisis · Radio Sweethearts · The Great Cornholio · Liar! Liar!
Season 5
Held Back · Killing Time · Beard Boys · Choke · Safe House · Hard Sell · Walkathon · Temporary Insanity · Dude, a Reward · Walking Erect · Career Day · Plastic Surgin · Take a Number · Beaverly Buttbillies · Tainted Meat · Stewart Moves Away · Top O' The Mountain · Party · Wet Behind the Rears · Bad Dog · Lightning Strikes · Dream On · Candy Sale · Animation Sucks · What's the Deal? · The History of Women · To the Rescue · I Dream of Beavis · Pregnant Pause · Here Comes the Bride's Butt · Screamers · Beavis, Can You Spare a Dime? · Skin Trade · Oil Change · Buttniks · Bang the Drum Slowly, Dumbass · Another Friday Night · Tired · Close Encounters · Womyn · Premature Evacuation · Whiplash · Spare Me · Patsies · Murder Site · Spanish Fly · Sexual Harassment · Bus Trip · Green Thumbs · Steamroller
Season 6
Bungholio: The Lord of Harvest (Butt-O-Ween) · The Mystery of Morning Wood · U.S. History · Feel A Cop · Date Watchers · Blood Pressure · Huh Huh Humbug · It's a Miserable Life · Babysitting · Vidiots · Stewart Is Missing · Gang Of Two · Sprout · Prank Call · No Service · Yard Sale · P.T.A. · Substitute · Shopping List · Buy Beer
Season 7
Butt, Butt, Hike! · Vaya Con Cornholio · Evolution Sucks · Ding Dong Ditch · Just For Girls · A Very Special Episode · Anonymous · Underwear · Head Lice · Cyber-Butt · Nosebleed · Citizens Arrest · Pierced · A Great Day · On Strike · Follow Me · Nothing Happening · Take A Lap · Shortcuts · Bride of Butt-head · Special Delivery · Woodshop · TV Violence · Canned · Garage Band · Impotence · The Miracle That Is Beavis · Shopping Cart · Inventors · Die Fly, Die! · Drinking Butt-ies · Work Is Death · Breakdown · Graduation Day · The Future of Beavis and Butt-head · Speech Therapy · Leave It to Beavis · Butt Flambé · Our Founding Losers · Beavis and Butt-head Do Thanksgiving · Beavis and Butt-Head Are Dead
Season 8
Werewolves of Highland · Crying · Daughter's Hand · Tech Support · Holy Cornholio · Drones · Supersize Me · Bathroom Break · The Rat · Spill · Doomsday · Dumb Design · Copy Machine · Holding · Used Car · Bounty Hunters · Time Machine · Massage · School Test · Snitchers · Whorehouse · Going Down
See also: Episode List
Community content is available under
CC-BY-SA
unless otherwise noted.