Stephanie Stevenson
is
Stewart's
mother and a good-natured housewife, who is depicted as an airhead.
She enlists the duo's help when Stewart disappears (Stewart Is Missing), and she trusts them to take his homework to school for him when he is sick (The Great Cornholio). She believes that Beavis and Butt-head are good friends of her son, being oblivious to their antics and their negative influence on him. The duo pay her little respect or attention except in regard to her breasts. Beavis and Butthead always say "Hey Baby!"
In Stewart's House she is blonde and has a Southern accent, but for the rest of the series she has dirty-blonde hair and possesses a thick Midwestern accent. Voiced by Tracy Grandstaff.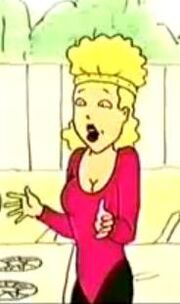 In Leave It To Beavis Mrs. Stevenson played the mother of Beavis and the wife of Butt-head. In the end she and Todd (called Eddie in the story) have sex in the kitchen and Beavis and Butt-head don't even realize.
She is one of the few characters to have never appeared in Beavis and Butt-head Do America.
Appearances
Edit
---
---
---
---
---
---
Community content is available under
CC-BY-SA
unless otherwise noted.