Mrs. Stevenson is Stewart's mother and a good-natured housewife, who is depicted as an airhead. She also seems to coddle her son to the point where he seems rather childish and immature for his age. She is known for her catchphrase "Oh dear!" when ever her son or Beavis and Butthead get into trouble, especially as a group.
She enlists the duo's help when Stewart disappears (Stewart Is Missing), and she trusts them to take his homework to school for him when he is sick (The Great Cornholio). She believes that Beavis and Butt-head are good friends of her son, being oblivious to their antics and their negative influence on him. The duo pay her little respect or attention except in regard to her breasts. Beavis and Butt-head always say "Hey Baby!". Butt-head in particular seems to have a crush on her, as in one episode, he fantasizes in a daydream about hanging out on the beach with Mrs. Stevenson wearing a bikini appearing as a blonde bombshell when she lets her hair down, and he regularly attempts to (and fails) to "score" with her when her son isn't around.
In Stewart's House she is blonde and has a Southern accent, but for the rest of the series she has dirty-blonde hair and possesses a thick Midwestern accent. Voiced by Tracy Grandstaff.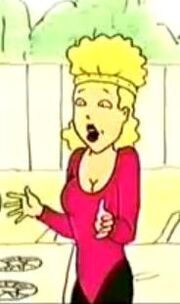 In Leave It To Beavis Mrs. Stevenson played the mother of Beavis and the wife of Butt-head. In the end she and Todd (called Eddie in the story) have sex in the kitchen and Beavis and Butt-head don't even realize. This appears to support the observable notion that Butt-head is infatuated with her, assuming the episode was something imagined by Butt-head.
She is one of the few characters to have never appeared in Beavis and Butt-head Do America.
Appearances
[
]
Take A Lap

(mentioned)
It's a Miserable Life (voice only, opening scene)
Sources
[
]
---
---
---
---
---
---