Cyber-Butt
is the 10th episode of the
7th season
and overall 170th episode of
Beavis and Butt-head
.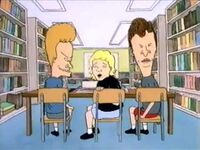 At the Highland High School Library, Mr. Van Driessen teaches students about computer safety, and avoiding inappropriate sites such as pornography. Upon hearing this, Beavis and Butt-head immediately become interested and figure out a way to get their "free porn". They see Stewart talking with a fellow classmate in the Library, which Butt-head sees as a solution to getting their porn. Throughout the school day, the duo are constantly on Stewart, encouraging him to give them their porn, even going as far as standing outside a toilet stall that Stewart is in until he finally gives in. He helps the duo access a porographic site until they come across an illegal photo that is forbidden by law. Upon opening it, it causes a loud commotion that causes the school librarian to come over to see what its about. She sees the video which causes her to faint, leading them to Principal McVicker's office, who after all three explain poorly why they looked up porn gives them detention for the rest of the year while also revoking their computer privileges. In detention, Beavis and Butt-head encourage a depressed Stewart to get them some more porn, but Buzzcut loudly gets the duo to shut up. Stewart then gives them his Gameboy to play with in order to get them to leave him alone, which the duo use as their alternative to their porn when they imagine the block-like photos on it as naked women.
Characters
Edit
Transcript
Edit
Mr. Van Driessen: And this, class, is the computer that will act as Highland High School gateway to the information super highway. Now, I know that all of you will use this responsibly. But the school board as worried the some with you we'll be tempted to access adult services. Some of which do contain pornographic images.

Butt-Head: Whoa.

Mr. Van Driessen: That's why the faculty will be taking strict measures against anyone who abuses the computer. okay. Any questions?

Butt-Head: Uh... so uh... how do we get porn?

Mr. Van Driessen: Very funny Butt-Head. Okay, there aren't any questions he'll back to class, okay.

Butt-Head: Whoa. Free porn.

Beavis: Yeah. Yeah. How do we get it.

Stewart: Yeah, yeah, yeah sure you can install it but I like to see download anything else with only four megs of RAM.

Butt-Head: Welcome to the future. here's your free porn.

Beavis: Yeah.

Butt-Head: Uh, hey Stewart, we need a get us some with that free porn.

Stewart: No way guys. You heard Mr. Van Driessen. We'll get in big trouble.

Butt-Head: No we won't.

Beavis: Yeah. Porn is good for you. Did you know that?

Stewart: Come on, guys.

Butt-Head: Uh... get us some porn.

Beavis: Yeah, yeah, yeah. Come on, let's check it out. Come on. Butthole.

Stewart: Guys, can't we just hang out?

Butt-Head: Uh, no. Uh, then we promised us. Uh, a really long time ago, then you were gonna get us some porn.

Beavis: Yeah, yeah you promise.

Stewart: Guys?

Butt-Head: Come on, Stewart, everybody does that.

Beavis: Yeah, yeah we'll be fine.

Butt-Head: Come on, Stewart, get us some porn.

Beavis: Yeah, yeah come on, get us some porn. Here we go. Porno, porno, porno, porno.

Stewart: Please leave me alone.

Beavis: Porn, porn, porn.

Butt-Head: Come on, Stewart.

Stewart: But I... okay, okay.

Butt-Head: Uh... well that's a start.

Beavis: Yeah, yeah keep going. We wanna see naked chicks. Butt naked yeah. Eh, hey what about that one.

Stewart: Oh, no. That one's illegal in the state.

Beavis: Come on I wanna see it, I wanna see it! Damn it!

Butt-Head: Yeah, come on, Stewart, do it.

Stewart: Oh, okay guys. [Stewart typing on the computer to search for porn and he press enter and he closed eyes]

Butt-Head: Whoa.

Beavis: Whoa?

Stewart: Oh, my god?

Butt-Head: Come to Butt-Head.

Beavis: Yeah.

Lady: What in gods name is going on here? Oh, my lord! [She fall back down on the floor]

Butt-Head: Uh... I think you killed her Stewart.

Mr. McVicker: Uh... Now as you boys know, we have strict rules, about accessing computer pornography from the library. So before, I sentence you to an extremely harsh punishment, I want to know how you little punks did it! Uh... Come on. You idiots can save yourself a lot of trouble if you just tell me who helped you log on!

Butt-Head: I did that myself. But Stewart got us the porn.

Stewart: What?

Beavis: He's pretty good.

Stewart: But... but... but I...

Mr. McVicker: Oh, that's it! You're all getting detention for the rest of the year! And you've lost all your computer privileges!

Butt-Head: Stewart in trouble.

Beavis: Yeah. That's cool.

Butt-Head: Hey Stewart. Uh, after we get out of here. Can you help us get some more porn.

Beavis: Yeah, yeah. This time get us more butt shots.

Stewart: Leave me alone. You guys already got me enough trouble.

Butt-Head: Uh... so.

Beavis: Yeah, yeah we need more porn, come on Stewart.

Buzzcut: Shut the hell up!

Stewart: Would you guys please leave me alone. Here you can play with my game boy.

Butt-Head: This sucks.

Beavis: No way, Butt-Head. If we kinda like close your eyes and make 'em blurry, that thing over there kinda looks like a naked chick with big boobs. Check it out.

Butt-Head: Whoa. Oh, yeah. [Beavis and Butt-Head looking at the gameboy to see]Add
Music Video
Edit
The Prodigy "Poison" Music For The Jilted Generation, Mute Records.
The name of the episode is based on the term "cyber bully".
This episode was released on the "Dumb Ideas" PAL VHS tape.
Pilot
Frog Baseball · Peace, Love & Understanding
Season 1
Door To Door · Give Blood · Balloon
Season 2
Scientific Stuff · Good Credit · Burger World · Baby Makes Uh, Three · Beware of the Butt · At The Sideshow · Customers Suck · Sick · Home Improvement · Way Down Mexico Way · Way Down Mexico Way Part 2 · At the Movies · No Laughing · No Laughing Part 2 · The Butt-head Experience · Lawn and Garden · Stewart's House · For Better or Verse · Bedpans & Broomsticks · Babes'R'Us · Yogurt's Cool · Heroes · Sign Here · Washing the Dog · Friday Night · Be All You Can Be
Season 3
Comedians · Carwash · Couch Fishing · Incognito · Kidnapped · Kidnapped Part 2 · Naked Colony · Tornado · Cleaning House · Scratch 'N' Win · Scared Straight · Eating Contest · Sporting Goods ·Sperm Bank · Buff 'N' Stuff · Citizen Butt-Head · Citizen Butt-Head Part 2 · Politically Correct · Ball Breakers · Meet God · Meet God Part 2 · True Crime · The Trial · The Crush · Plate Frisbee · Canoe · Young, Gifted & Crude · Foreign Exchange · A Very Special Christmas With Beavis and Butt-head · Closing Time · Most Wanted
Season 4
Wall of Youth · Cow Tipping · Trouble Urinating · Rabies Scare · They're Coming To Take Me Away, Huh Huh · Jump! · Pumping Iron · Let's Clean it Up · 1-900-BEAVIS · Water Safety · Blackout! · Late Night with Butt-head · The Final Judgement of Beavis · Pool Toys · Madame Blavatsky · Beavis and Butt-head's Island · Figure Drawing · Date Bait · Butt is it Art? · Right On · Manners Suck · The Pipe of Doom · Safe Driving · Mr. Anderson's Balls · Patients Patients · Teen Talk · Crisis Line · Beavis and Butt-head vs. the Vending Machine · Generation in Crisis · Radio Sweethearts · The Great Cornholio · Liar! Liar!
Season 5
Held Back · Killing Time · Beard Boys · Choke · Safe House · Hard Sell · Walkathon · Temporary Insanity · Dude, a Reward · Walking Erect · Career Day · Plastic Surgin · Take a Number · Beaverly Buttbillies · Tainted Meat · Stewart Moves Away · Top O' The Mountain · Party · Wet Behind the Rears · Bad Dog · Lightning Strikes · Dream On · Candy Sale · Animation Sucks · What's the Deal? · The History of Women · To the Rescue · I Dream of Beavis · Pregnant Pause · Here Comes the Bride's Butt · Screamers · Beavis, Can You Spare a Dime? · Skin Trade · Oil Change · Buttniks · Bang the Drum Slowly, Dumbass · Another Friday Night · Tired · Close Encounters · Womyn · Premature Evacuation · Whiplash · Spare Me · Patsies · Murder Site · Spanish Fly · Sexual Harassment · Bus Trip · Green Thumbs · Steamroller
Season 6
Bungholio: The Lord of Harvest (Butt-O-Ween) · The Mystery of Morning Wood · U.S. History · Feel A Cop · Date Watchers · Blood Pressure · Huh Huh Humbug · It's a Miserable Life · Babysitting · Vidiots · Stewart Is Missing · Gang Of Two · Sprout · Prank Call · No Service · Yard Sale · P.T.A. · Substitute · Shopping List · Buy Beer
Season 7
Butt, Butt, Hike! · Vaya Con Cornholio · Evolution Sucks · Ding Dong Ditch · Just For Girls · A Very Special Episode · Anonymous · Underwear · Head Lice · Cyber-Butt · Nosebleed · Citizens Arrest · Pierced · A Great Day · On Strike · Follow Me · Nothing Happening · Take A Lap · Shortcuts · Bride of Butt-head · Special Delivery · Woodshop · TV Violence · Canned · Garage Band · Impotence · The Miracle That Is Beavis · Shopping Cart · Inventors · Die Fly, Die! · Drinking Butt-ies · Work Is Death · Breakdown · Graduation Day · The Future of Beavis and Butt-head · Speech Therapy · Leave It to Beavis · Butt Flambé · Our Founding Losers · Beavis and Butt-head Do Thanksgiving · Beavis and Butt-Head Are Dead
Season 8
Werewolves of Highland · Crying · Daughter's Hand · Tech Support · Holy Cornholio · Drones · Supersize Me · Bathroom Break · The Rat · Spill · Doomsday · Dumb Design · Copy Machine · Holding · Used Car · Bounty Hunters · Time Machine · Massage · School Test · Snitchers · Whorehouse · Going Down
See also: Episode List
Community content is available under
CC-BY-SA
unless otherwise noted.